by USA Today Bestselling Author, Chelle Bliss Released on January 26th - LIVE
EVERYTHING CHANGED IN AN INSTANT.
I thought I knew what was important, but one phone call sent my life into a tailspin.
Alone and afraid, I cling to the one man I shouldn't.
I was warned about him and told to stay away. "He's dangerous," they said.
But the man who could hurt me the most, gave me the greatest comfort.
"He's not who they think," I told myself.
But just like an illusion, things are never what they seem.
REVIEW
I've read every Chelle Bliss book written, I've loved them all, I've connected with a few of them but never like I did with Enshrine.
Callie wasn't my favorite character in the beginning, she was a bit high maintenance which doesn't work for me, but a phone call changed everything.
She's strong, I loved that, there's nothing worse than a weak, whiny heroine. She has ties to Bruno but she doesn't know it yet. Loved that little surprise!!
Bruno isn't quite what he seems, the thing you think he is he isn't but when you find out what he really is you'll love him even more.
He's got a fierce protective streak and Callie in his sights, she doesn't understand at first, she was warned off him, that he's a bad man, no good for her. Luckily she didn't listen or she'd have missed out on something truly amazing.

Callie and Bruno's relationship starts during a horrific time in Callie's life. A time most people wouldn't make the decision to get involved with someone, but they did and it was probably the best thing that could have happened to Callie.

Enshrine is heartbreaking and exhilarating, with moments that will take your breath away. I promise you will fall in love with these characters, their story is absolutely amazing, I do believe I have a new book boyfriend, and he's a close second to my favorite of Bliss' men!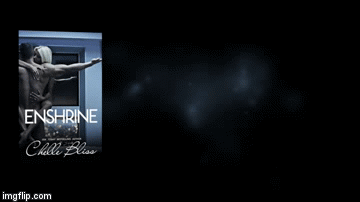 Available at the following retailers
ENSHRINE GIVEAWAY - OPEN INTERNATIONALLY
USA Today Bestselling author, Chelle Bliss, currently lives in a small town near the Gulf of Mexico in Florida. She's a full-time writer, time-waster extraordinaire, social media addict, and coffee fiend. She's written over ten books and has two series available. She loves spending her free time with her boyfriend, 2 cats, and her hamster.
Before becoming a writer, Chelle taught high school history for over ten years. She holds a master's degree in Instructional Technology and a bachelor's in history. Although history is her first love, writing has become her dream job and she can't imagine doing anything else.
ALSO BY CHELLE BLISS